In summer, the country of Royan is the capital of fireworks. It's simple, they are everywhere: from seaside resorts to rural villages and oyster ports. It is the bouquet !
Spotlight on Destination Royan Atlantique
In July and August, at nightfall, the sky lights up over Destination Royan Atlantique. On a towel with your feet in the sand, on the quay of a port or in a village square, each time you discover a new fireworks show. We then come out of it with stars full of heads and sparkling eyes. The little ones are delighted and the grown-ups also become children again for the – too short – time of a fireworks display. Each burst of fire makes us vibrate from within. Each "BOOM" touches the heart. We've been waiting for this moment all year so we're enjoying it!
For the next holidays in Charentes, the Tourist Office reveals the calendar of Royan Atlantique fireworks. All occasions are good on the destination to organize a fireworks display. There is the national holiday on July 14, village festivals, fairgrounds, sea festivals and also concerts. THE "A Violin on the Sand" festival also ends each evening with a fireworks display. THE Site en Scène "At the Crossroads of the Lighthouses" is a pyrotechnic show in the bay of Bonne Anse in La Palmyre. We let ourselves be carried away by the magic of the moment. We then have our eyes fixed on the sky and the words of the storytellers and the musical notes bewitch us.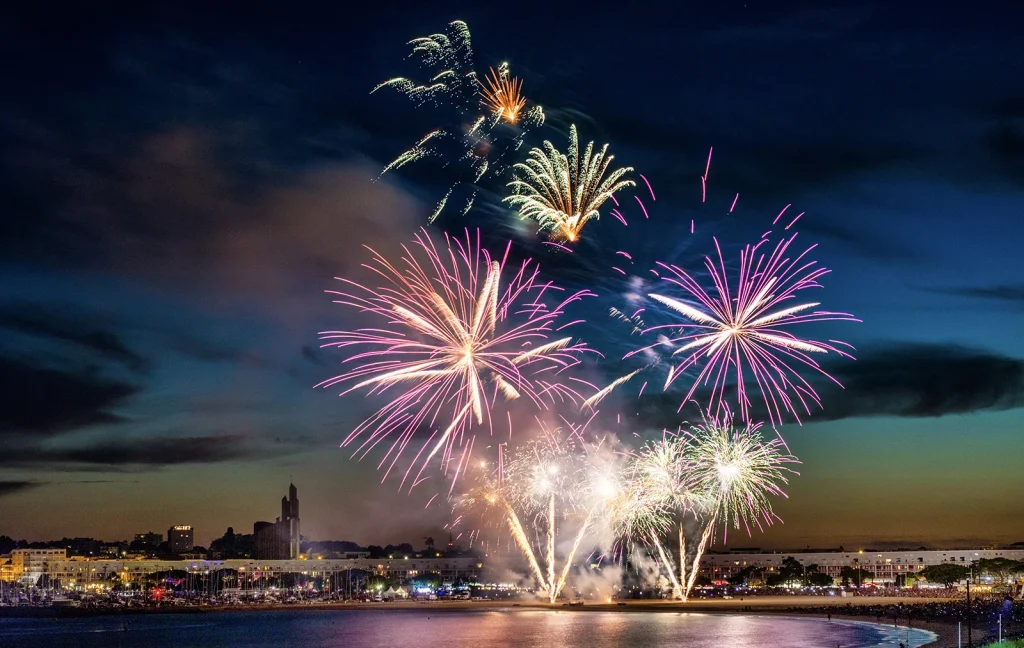 August 15 fireworks
THE date of the summer season is August 15 fireworks in Royan. People come from all over the Charente-Maritime department to see this pyrotechnic festival. A human tide then invaded the Front de Mer and Boulevard Garnier. She is there to admire this fire drawn from the Grande Conche of Royan. We arm ourselves with an ice cream, a chichi or a waffle to multiply the pleasures. The show is 180°. There are also fireworks from the other side of the Gironde estuary, on the Médoc side, like the Verdon.
No matter where you find yourself in Royan, you jump at the slightest firecracker. We raise our eyes to the sky to find where the fireworks are taking place. So this summer, don't miss any date with our calendar!