We are preparing our weekend for the European Heritage Days around Royan
With 10 museums, 15 listed monuments, 2 of the Most Beautiful Villages in France, 1 City of Art and History, Destination Royan Atlantique is a must during European Heritage Days and for lovers of tradition and history. Unexpected places open their doors to you and around thirty different activities are offered for European Heritage Days in Royan and throughout the destination. Between nature and culture, we learn about the different aspects of Royan's heritage.
En weekend in Charentes on September 17 and 18, we take advantage of a range of free or discounted guided tours to learn more about the history and riches of our territory.
Focus on 5 original outing ideas:
The Heritage and Popular Traditions Festival between Cozes and Mortagne-sur-Gironde
La Heritage and Popular Traditions Festival highlights the rich tangible and intangible heritage of the hinterland of Royan. On the program, on Saturday: parade, rally and walk through 10 rural municipalities of the territory with, depending on the stages: exhibitions, exhibitions of crafts and folklore, mini-conferences and retro-cinema. Sunday in Mortagne-sur-Gironde: gourmet market of local producers, conferences on the biodiversity of our territory, folk dance show.
The "Nadu Marsaudon" exhibition at the Royan Museum
The "Nadu Marsaudon" exhibition at the Royan Museum traces the career of this local figure whose works have been prolific since the 50s: drawing, painting, collage, frescoes, advertising posters. His work contributes to the identity of the territory with in particular the decorations of the Palais des Congrès de Royan, the Zoo of La Palmyre, the discotheque Le Rancho, the restaurant Le Tiki...
Sablonceaux Abbey
THEAbbey Church of Sablonceaux is famous for its bell tower and Romanesque domes over the nave. The visit allows you to discover the chapter house, the granary, the abbey dwelling and more confidential places such as the wing for the monks or the cells of the monks.
The Regulus caves
We rediscover the emblematic site of the Regulus Caves recently renovated in the face of the natural elements that weaken the cliffs. The new scenography takes you on a journey between legends and history.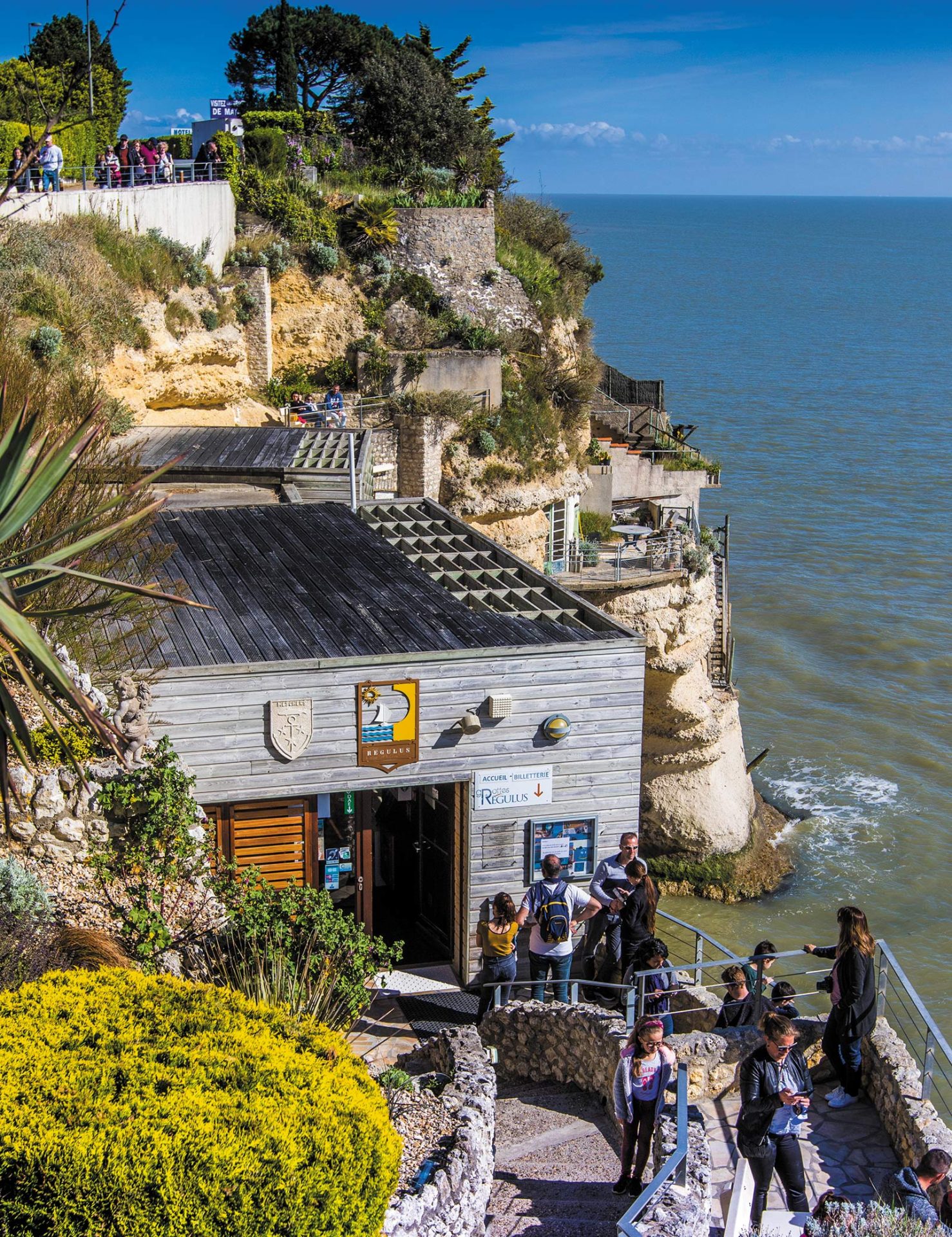 The "Chimeras" exhibition at the Parc de l'Estuaire
Le Estuary Park hosts an exhibition made of giant sculptures representing insectoid creatures. The Land Art course raises awareness of the harmony of nature. Responsible artistic productions were made by visual artists Sophie Prestigiacomo and Régis Poisson.