On the Entre-deux estuaires, Grézac is delimited to the north by the Seudre douce and to the south by the commune of Cozes. You are here in the heart of the Saintonge countryside, these familiar landscapes dominated by agricultural plots.
cultures and culture
First seen from the sky, Grézac offers an alternation fields and groves. Agriculture is the main activity of the town. Here about twenty farmers share the fertile lands of Grézac. The plurality of landscapes in Grézac favors different cultures. We find in the west of the town a strong activity oriented towards cereal growing. Here we grow wheat, barley and corn. To the east, the land is conducive to viticulture and animal husbandry.
The windmills
For centuries, the Saintonge countryside has seen the development of mills. Watermills or windmills, they are part of the rural heritage of Charente-Maritime. Grézac is not to be outdone and two mills are listed to date in the town.
The mill of Ambreuil, formerly a watermill located on the Seudre, had to give way to a windmill because of the drop in the hydraulic regime of the river. Several owners succeed and since 2012 it finds its headdress and its wind rose.
Another mill in the town of Grézac, the Alluchons mill. This windmill, dating from 1770 and sculpted in limestone, dominates on the one hand the meadow of Pellegrain with the Seudre in the background and on the other hand the plain of Cozes with the estuary of the Gironde.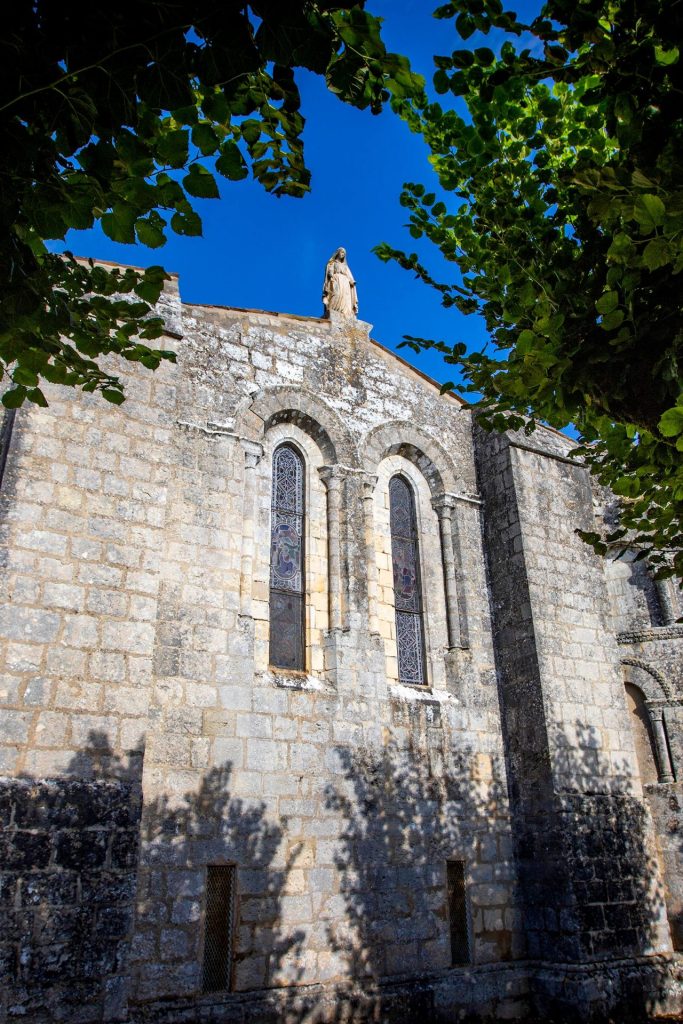 The Saint-Symphorien church in Grézac
We find in the center of the village, Saint-Symphorien church. Of the XNUMXth century Romanesque church, a dependency of the Saint-Eutrope de Saintes abbey, only the north apse remains today with its windows with small columns and arcades decorated with checkered bands and diamond points, capitals with foliage and intertwined animals.
This rich and luxurious decoration can only make us regret the disappearance of this first roman church of which some decorations carved in high reliefs reinserted in the facade still bear witness to the magnificence of the primitive church which has disappeared. Inside the church, there is a vast crypt-ossuary whose vaults, 5 meters high, fall in the center on a column.
Gentle activities to discover the Grézac countryside
The agricultural landscapes of Grezac are discovered at your own pace.
On foot, take the circuit Walks and Hikes n°18 from the Logis de Sorlut in the neighboring town of Cozes and let yourself be guided through fields and forest.
By bike, go on an easy 25km circuit. The mountain bike circuit n°12 is also located from Cozes and will allow you to contemplate the Saintonge countryside. Cross fields of wheat, corn and other cereal crops.
Whether on foot or by bike, Grézac offers you a break that smells of rurality far from the hustle and bustle of the Royan coast.