The coast of Destination Royan Atlantique stretches between the mouth of the Gironde estuary and the Atlantic coast. A seaside and wild atmosphere emerges combining the smell of pine trees, fine sandy beaches, small coves and the feeling of being at the end of the world.
Both different and complementary, the seaside and wild landscapes extend from the troglodyte habitats of Meschers-sur-Gironde to the Chenal de la Grève in the town of La Tremblade Ronce-les-Bains, opposite the Island of Oléron. They thus agree on a coastline nearly 100 km long. Renowned resorts line it such as Royan, Saint-Palais-sur-Mer and La Palmyre.
A seaside life
facing the sea
Composed of 20 sandy beaches, the historic seaside resorts concentrate the largest urban area of ​​this territory. From large conches over several kilometers in length to small enclosed coves where nature holds a preponderant place, you are therefore sure to find the beach that suits you.
Our ports of the country of Royan border the 3 different shores: that of theAtlantic Ocean and those of Gironde and Seudre estuaries. In addition to the oyster and fishing ports, the marinas dot the entire coastline of the territory. We find in particular the marina of La Tremblade in the heart of the city, the port of La Palmyre, the port of Saint-Georges-de-Didonne, the port of Meschers-sur-Gironde and of course the marina and Royan fishing.
In Royan, central point of the country of Royan, the architectural heritage of the resort seduces, mixing Belle Époque villas and the 50s.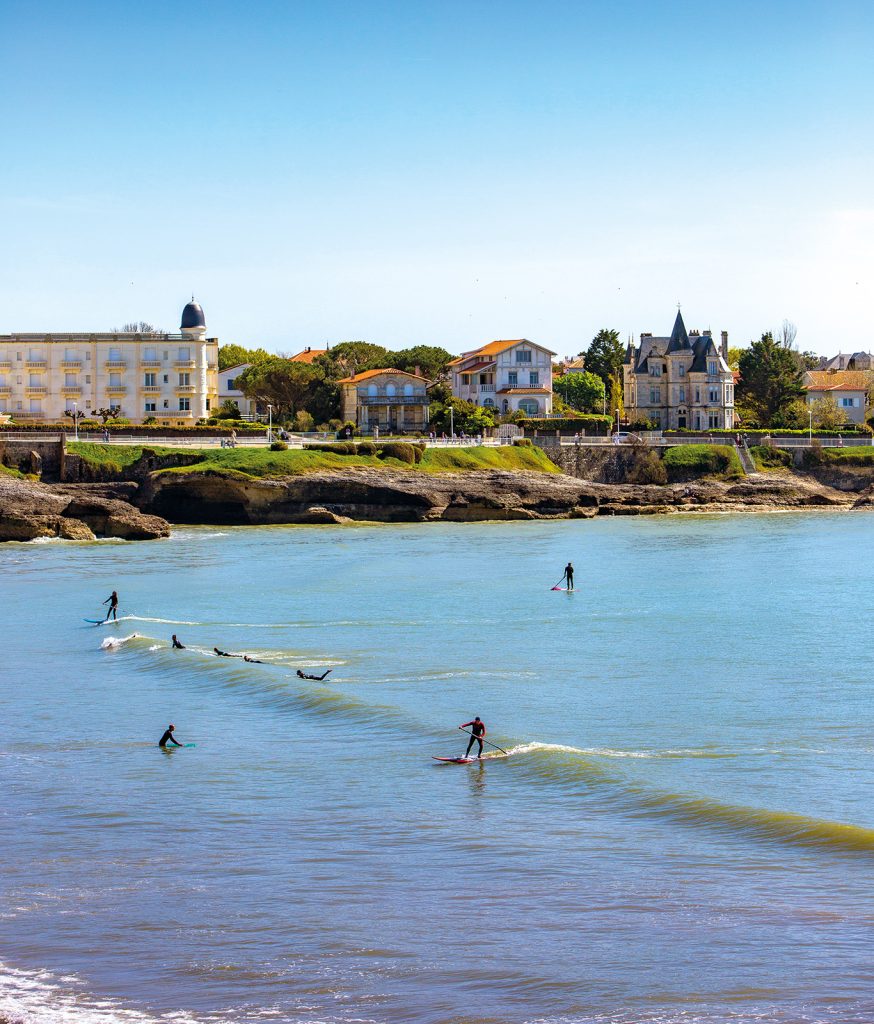 From the Coast of Beauty to the Wild Coast
It feels like the end of the world facing the Atlantic Ocean and the island of Oléron. The Wild Coast and the Coubre forest offer a place conducive to disconnection and rejuvenation.
Between dune environment and maritime pine forest, the Côte Sauvage is revealed. This long fine sandy beach is an exceptional site that awakens your senses. Take the time to listen to the intensity of the waves, to admire the variations of colors in the heart of the forest massif, to breathe in the smells of pines and holm oaks.
Green lung of the destination, the Coubre forest extends over nearly 8000 ha. It is a place of refuge where wild boars, stags and birds rub shoulders.
On the Vélodyssée® route, the Coubre lighthouse stands before you. Climb its 300 steps. You will enjoy a 360° view of the bay of Bonne Anse, the Côte Sauvage and the Coubre forest.
---
Discover the different seaside and wild towns