The Airmen's Chapel, a preserved heritage
La Airmen's Chapel is located near Platin beach, Saint-palais-sur-mer. It is located on land acquired in 1896 by Joseph Odelin, a Parisian industrialist.
The idea of ​​erecting an oratory on this land was presented to Monsignor Le Camus, Bishop of Saintes and La Rochelle in 1903. The latter approved the project and, a year later, the building saw the light of day. Consisting of a nave in exposed stone and a narthex bell tower, the chapel can accommodate 15 to 20 people. The baptism of the Jeannette bell, the blessing of the oratory dedicated to Notre Dame as well as the first mass take place on August 25, 1904.
Having become too small to accommodate all the faithful, the chapel underwent some modifications in 1908. The stone nave then gave way to a longer and much wider brick nave. Monseigneur Augouard, bishop of Congo-Brazzaville blesses the chapel again for the occasion.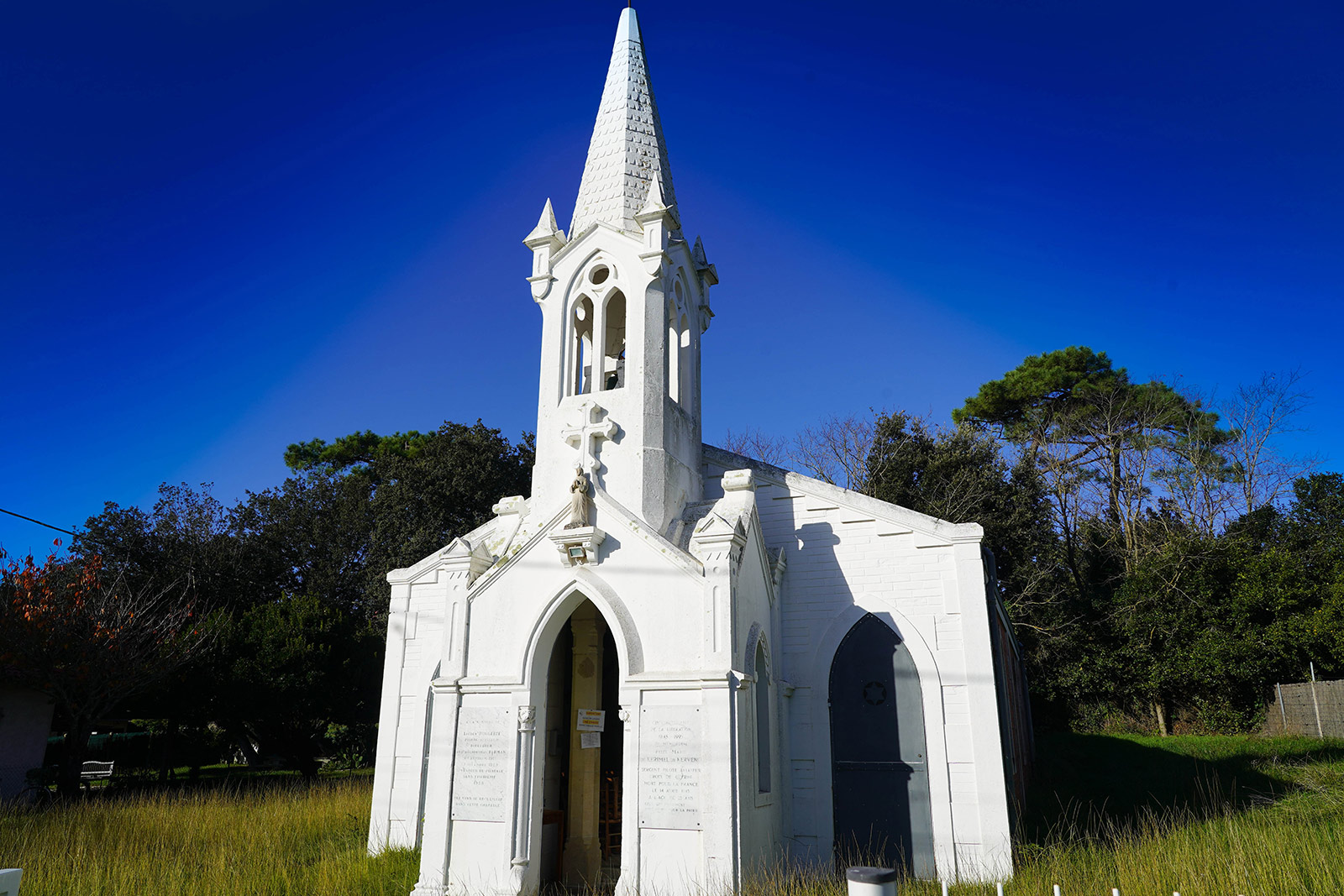 Following the feat of Louis Blériot crossing the English Channel in an airplane in 1909, the chapel dedicated to Notre Dame became the Airmen's Chapel then a little later that of the Sailors. When Joseph Odelin died in 1927, the chapel returned to the diocese. During World War II, the bombing of Royan do not spare the Airmen's Chapel. It was rebuilt two years later, in 1947.
Created in 2005, the association of Friends of Notre Dame du Platin has the mission of bringing to life and maintaining the Chapel of the Aviators. Masses are celebrated there throughout the summer. At the end of August, the pilgrimage closes the summer season. During the guided tour of the Customs Trail, we invite you to discover the interior of the chapel. You can admire the models of planes it houses, offerings also called ex-voto.
Video length: 46 seconds