Nestled in the heart of an 18-hectare maritime pine forest, very close to the ocean near Royan, La Palmyre Zoo invites us on a tour of the animal world during an exotic family day!
Discovering one of the most beautiful zoos in France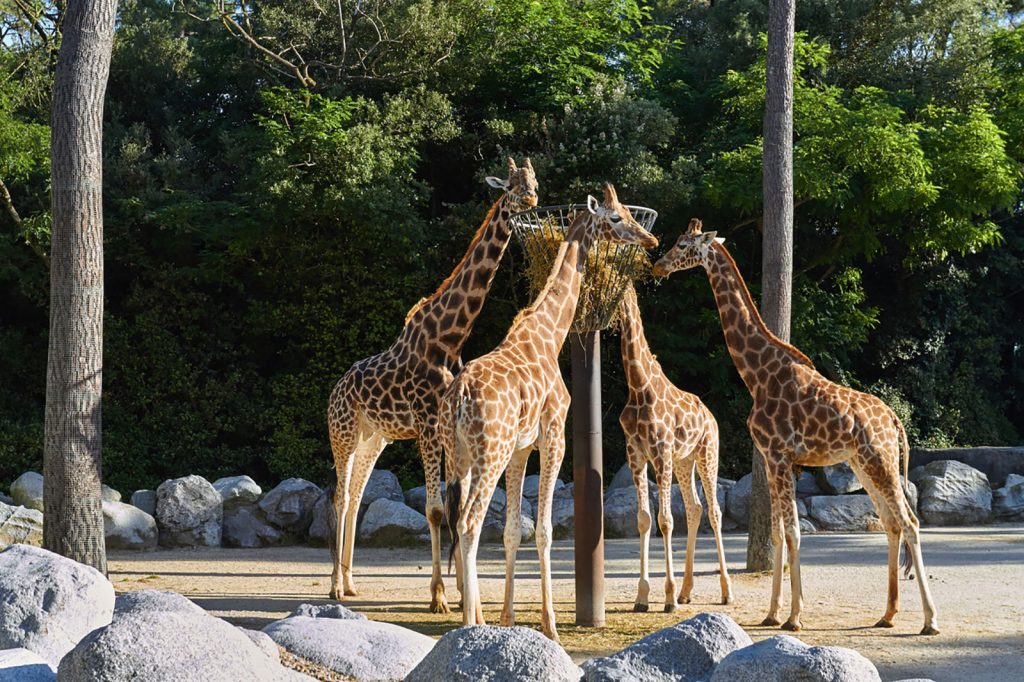 A few steps from the Zoo, you can hear the cry of monkeys and the roar of lions. We are already in the mood.
As soon as you enter, you can't resist: you stop in front of the pink flamingos and the huge giraffes who make eyes at us while waiting for us to feed them...
Along the shady paths that wind through the pine forest, we go to meet more than 1600 mammals, birds and reptiles. Each species benefits from an environment adapted to its well-being and its needs. Magnificent universes have been recreated for the most exceptional animals: the primate island, the African plain, the white rhinos, thegreat ape space and its remarkable gorillas and orangutans…
Close to the pond polar bears, sea lions and parrots are preparing to offer us one hour show*. Antics and acrobatics, demonstrations of skill and intelligence amuse young and old.

We continue the visit and we fall under the charm of the last born of the Zoo. Who does not remain tender in front of these miniature versions? Each year, the zoo registers a record birth rate (between 200 and 250), proof that the animals feel good there!

* The parrot and sea lion shows take place every day from Easter to All Saints' Day.
Founded by Claude Caillé in 1966, the Zoo celebrated its 50th anniversary in 2016. Beyond being a fun and family outing, La Palmyre Zoo plays an important role in safeguarding endangered animals and in public awareness of this cause.
It participates in European Breeding Programs, the reintroduction of animals in the wild and finances several programs for the Conservation of Animal Species and Populations in the wild. All the more reason not to miss this unmissable visit to Charente-Maritime!
Pratical information
Open every day, all year round
Average duration of visit: 4 hours
The zoo is accessible to people with reduced mobility
Wheelchair rental: 1 km from the La Coubre pharmacy (31 boulevard des Trémières)
Stroller rental: 300 m from the Élan SARL Jaudeau & Cie service station (4 avenue de Royan)
The zoo does not accept dogs
Pricing
| Pricing | Min. | Max. |
| --- | --- | --- |
| Adult | 19 € | - |
| Kids | 15 € | - |
2 free car parks are available (P1 and P2). The P2 car park has spaces for large vehicles (camping-cars, bus).

From April to September, if you arrive by train at Royan station or by the Bac de Royan (connection between Le Verdon-sur-Mer and Royan), line 31 of the Cara'bus network serves the La Palmyre Zoo.